Business and Finance Office
The goal of the Business Office is to provide the resources needed to support the advancement of student achievement and success in a fiscally responsible manner. They coordinate payroll, purchasing, budget and financial reporting, banking and investments, debt service, accounts payable and accounts receivable.
Holly Areas School's financial information, including but not limited to audits, budgets and other financial metrics, is available in our Budget and Salary/Compensation Transparency Reporting documentation. A link is also available on the District's home page.
This office is comprised of many dedicated employees and departments, including:
The accounts payable department is responsible for processing payment information. Invoice payments and monthly mileage/expense claims are paid through this office. Any packing slips, invoices, or contracts for these types of expenses must be signed/approved and then forwarded to the A/P Department. If you have any questions regarding the payment of invoices, please contact Ann Fischer.
Please submit invoices to:
Holly Area Schools
Attn: Accounts Payable
920 Baird Street
Holly, MI 48442
Employees with questions regarding invoices, reimbursement of mileage, conferences and other expenses should contact Ann Fischer at extension 3106.
Payments to the Holly Area Schools may be mailed to the Board Office located at 920 Baird Street, Holly, MI 48442.
If you have any questions, please contact Karen Retka at 248.328.3153.
To view your paycheck online, please log in to Skyward Employee Access.
If you are trying to view paycheck information prior to July 1, 2017, you can use still access the CIMS Payroll site for that information.
If you have any payroll questions, please contact Ann Schimmeyer at 248.328.3152.
ORS 3% Refund Payment - Non-Active Employees
As you know, the Supreme Court ruled that PA-75, which mandated members contribute 3% of their compensation to the Retiree Healthcare Fund from July 2010 through early September 2012, is unconstitutional and that member contributions be refunded.
Please note that the District was not involved in the computation of the refund or interest; accordingly, we could not make any adjustments to these refunds. The original deductions were not subject to federal or state withholding taxes, including Social Security and Medicare; therefore when the refund is processed all of these taxes are required to be withheld. Per auditors guidance taxes were calculated using the last W-4 on file with the district. While the interest portion of your refund will not be taxed, it must be included as taxable income on your 2018 Individual Tax Return 1040 form. Please consult your tax advisor with respect to the reporting of interest income.
Below is a sample of a check stub. You will see the reimbursement amount under Payments. The interest earned will be listed under Deductions, and for processing through the system the amount will display as a negative. (Negative Deduction = Positive Amount).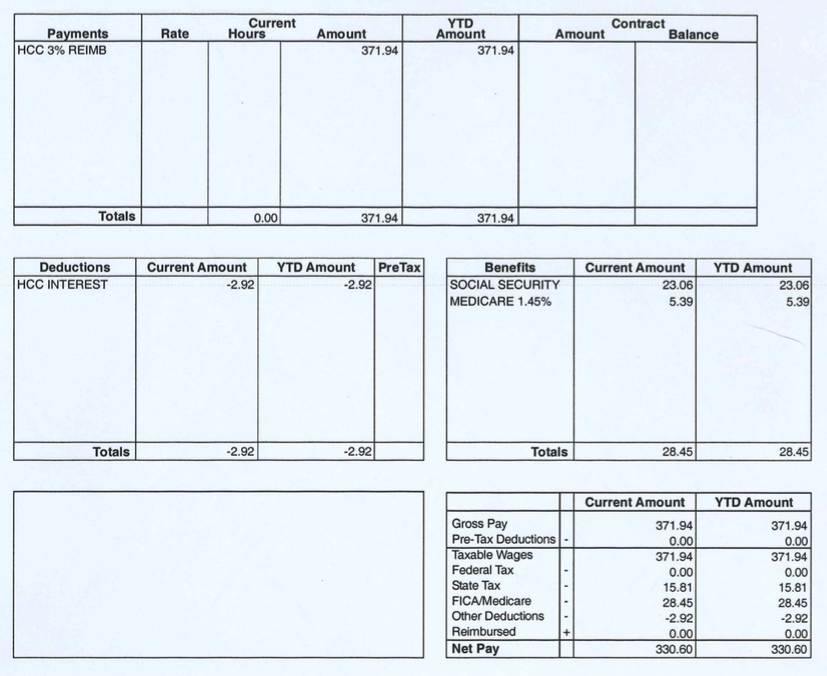 Steven Lenar
Administration
Assistant Superintendent
Phone: 248.328.3151

Send me a message